Yvonne Jillson spent most of her life in Vermont, where she and her husband ran a general store and post office. Her husband took care of the store, and she served as postmistress.
"In a small town," Mrs. Jillson explains, "everyone is your friend." As postmistress, she had the opportunity to see which families were in need of assistance. That's why Mrs. Jillson and her husband used to prepare care packages of food every Christmas and deliver them in secret to the less fortunate families in their community.
Now Mrs. Jillson lives by herself, and relies on the daily visits from a caring Meals on Wheels volunteer to bring her a meal and a little cheer. When it comes to giving of oneself, Mrs. Jillson says, "I don't see why you wouldn't. You get back a hundred times what you give."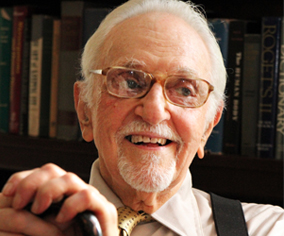 SIDNEY
For Sidney, Meals on Wheels means more than just nutritious meals and friendly visits from volunteers; it means keeping up a lifelong tradition. As a child, Sidney, along with his two sisters and three brothers, learned the significance of keeping kosher from his father. Sidney always made an effort to carry on the lessons he learned, setting aside dairy and non-dairy kitchen items and avoiding certain foods.
Meals on Wheels helps him keep kosher. "It's a huge burden off my shoulders," Sidney says.
Sidney appreciates that Meals on Wheels allows him to honor his family traditions, and provides the nutritious meals that make it possible for him to stay in his home. "I feel confident of staying here. That's important to me; I'm a very independent person."